Our Team
Dunn Hiebert & Associates Ltd specializes in the team work for all multi-disciplined facility and pipeline projects. We have a broad experience with oil and gas gathering and transmission pipelines, projects in all different terrains, private, crown land, mountainous, muskeg and permafrost.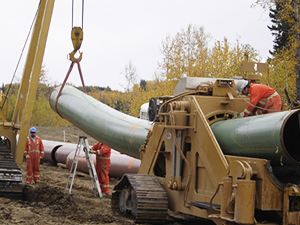 Our project personnel have been involved in the facility and pipeline industry for more than 35 years and have extensive experience in the construction and field management aspect of the projects.
Our personnel are experienced in all stages of both Federal and Provincial regulatory approval processes (including CEAA, DFO, NPA, Alberta AEP, the B.C. EAO, the B.C. OGC, and various other permitting ministries in Alberta, B.C. and Saskatchewan).
Our experience is proven for pipeline projects from conceptual studies and estimates through detailed route selection, cost estimating and schedule, supplying support for tendering, construction management, construction inspection and administration. For larger projects, Dunn Hiebert is unique in the industry for its focus on commitment from key people from start to completion. This is a key success element for large projects. Our project experience assures quality, maintains schedule and minimizing cost, projects demand a fully dedicated team with continuity and full conviction to complete the projects to our customer's satisfaction.
Tom and Glen's experience includes construction management and inspection, construction cost estimating for pipelines, gathering systems and related facilities, technical support with engineering studies, bid preparation for inspection services, and construction document preparation. Their background allows Dunn Hiebert to contribute a wealth of practical construction experience along with broad knowledge on recent actual construction costs for major pipeline projects, which can be applied to route selection, construction cost estimates, construction specifications and engineering design reviews.
Dunn Hiebert has a wide variety of qualified personnel and inspectors - Project Managers, Administration personnel, Cost Trackers, Chief Inspectors, Assistants, Welding, Coating , all pipeline disciplines, Mechanical, Electrical, Environmental ,QC and can supply Safety inspectors if required.