Company Principles
Dunn Hiebert & Associates Ltd was formed in 1996 with a partner ship of Tom Dunn and Glen Hiebert who owned their own company's prior to the partnership, servicing the facility and pipeline industry since 1976.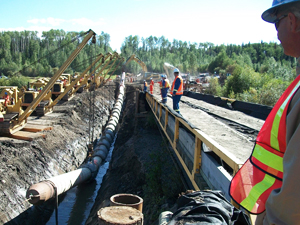 Tom Dunn, Principal:
With over 38 years of experience, Tom Dunn has held key senior positions on major transmission pipelines in Western Canada. Tom is experienced in large project organization and management, and has an extensive background in detailed design support, managing construction contract contents both for commercial tightness and to ensure corporate due diligence in environmental matters and field management of pipelines, ranging from 2" to 42" in diameter.
Glen Hiebert, Principal:
Glen Hiebert has been involved in operations, facility and pipeline industry for more than 38 years and has extensive experience in the operation, construction and field management aspect of facilities and pipelines from 2" to 42". Glen's success with our projects is developing a good atmosphere for all involved, and maintaining, working relationships with local communities and aboriginal groups on all projects big and small, from plants to gathering systems to transmission lines, Glen was the chief inspector for CNRL in NE British Columbia from 1991 to 2009 looking after all gathering systems, well sites, mainlines, as well as managing the day to day business for Dunn Hiebert.
Jeff Hiebert, Principal:
With over 15 years of experience, Jeff has experience with all aspects of oilfield construction work. Jeff has extensive experience with oil and gas producer clients and the installation of oil batteries, well site separators, meter skids, dehydrators units, plant piping, tank farms, plant drawings and P&ID's in addition to extensive experience in pipeline inspection, ranging from 2" to 16" and in all terrains, including: rock, muskeg, agricultural land and permafrost. Jeff has been the Chief inspector for CNRL in Northeastern British Columbia since 2009 looking after all gathering systems, well sites and mainlines. In addition to Jeff's roles as the Chief Inspector for CNRL, his roles with Dunn Hiebert include: operations management, project research, hiring and placement and day to day management and operations of Dunn Hiebert and working with clients and personnel supplying 15 years worth of learning and experience.