Dunn Hiebert & Associates is a Canadian project management and inspection firm located in Fort St. John, BC, and is managed by two long time facility and pipeline inspectors, Tom Dunn & Glen Hiebert.
Dunn Hiebert has two divisions to their company, one division looks after the producers, the other division looks after the transmission side. Some of the bigger facilities that have been completed by our teams are the West Tupper Gas Plant For Murphy Oil Company Ltd. And the Dawson Creek Plant (Phase 1 & 2) for Spectra Energy.
A few of the larger diameter and lengthy pipeline projects completed by our project teams include the Alliance Pipeline project, Sections of the Alberta Clipper SLR Pipeline, Alberta Clipper Pipeline for Enbridge, South Peace Pipeline Project for Spectra Energy, Boreal Project for Williams Energy and the T-North Projects for Spectra Energy.
Dunn Hiebert also make sure that the producer side of the company is well looked after. (This is where we started) with exceptional personnel in place to see all our producer client's needs are satisfied.
Our office is located in Fort St John, and our phone number is (250)-787-8692.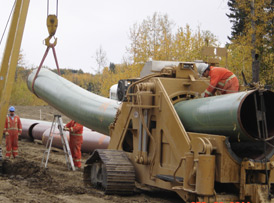 PROJECT GALLERY
At Dunn Hiebert we specialize in teamwork for all multi-disciplined facility and pipeline projects. We are proud of the work we do. Check out our photo gallery for our latest projects.